― 17 Temmuz 2022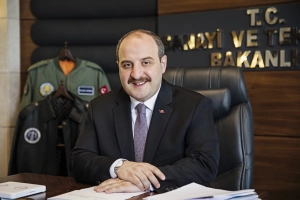 Minister of Industry and Technology, Mr. Mustafa VARANK made evaluations regarding the industrial property applications which made to TÜRKPATENT in the first half of this year.
Noting that the number of geographical indication registrations reached 1149 in the said period, VARANK stated, "TÜRKPATENT received, in total of 126 thousand 783 domestic industrial property applications, including 3 thousand 657 patent, 3 thousand 229 utility model, 87 thousand 932 trademark, 31 thousand 965 design applications in the first half of the year". 
VARANK pointed out that domestic patent applications increased by 3 percent in the January-June period compared to the same period of the previous year, adding that there was a 34 percent increase in domestic utility model applications and a 28 percent increase in domestic design applications. He said, "The applications for geographical indications increased by 120 percent in the first 6 months of 2022 compared to the same period of the previous year. During this period, 163 geographical indications were registered."
Looking at the statistics of TÜRKPATENT for the first 6 months of 2022, 14 universities were among the first 50 companies to apply for patents. 333 patent and utility model applications were made by universities. Yildiz Technical University and Istanbul Gelisim University shared the first place among the universities with the highest number of patent applications, with 17 applications each, while Erciyes University was in the second place with 13 applications, and Istanbul Technical University, Üsküdar University and Ege University were in the third place with 12 applications.
With the registration of Giresun Tombul Fındığı, the number of Turkish geographical indications registered in the European Union has increased to 8. Antep Baklavası, Aydın İnciri, Aydın Kestanesi, Bayramiç Beyazı, Malatya Kayısısı, Milas Zeytinyağı and Taşköprü Sarımsağı were previously registered as geographical indications in the EU. 
The ranking of the institutions with the highest number of patent applications between January and June is as follows:
"Mercedes-Benz Türk: 112, ASELSAN: 71, Arçelik: 61, Tırsan Treyler: 49, Vestel Beyaz Eşya: 47, Bilim İlaç: 41, Vestel Elektronik: 37, Türk Telekom: 25, Femaş Metal: 21, Sanovel İlaç: 21, TUSAŞ: 18."