― 14 Mart 2023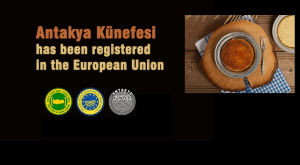 The Antakya Künefesi, whose review and announcement processes were successfully completed by the European Union Commission, was registered in the European Union on March 13, 2023.
The Geographical Indication application for the Antakya Künefesi was made by the Antakya Chamber of Commerce and Industry in 2019.
Antakya Künefesi; Antep Baklavası, Aydın İnciri, Aydın Kestanesi, Bayramiç Beyazı, Giresun Tombul Fındığı, Malatya Kayısısı, Milas Zeytinyağı, Taşköprü Sarımsağı, it became our 9th registered geographical indication in the European Union.