― 11 Mayıs 2022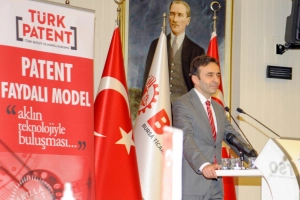 Organized under the auspices of the Ministry of Industry and Technology, with the cooperation of the Turkish Patent and Trademark Office, Bursa Chamber of Commerce and Industry, Yalova Chamber of Commerce and Industry, the project "Hezarfen Bursa - Yalova", which carries innovation to SMEs, was launched with the opening ceremony held in Bursa on May 11, 2022.
Speaking at the opening of the ceremony attended by many guests from the business world and bureaucrats,  Cemil BAŞPINAR, Acting President of TÜRKPATENT, drew attention to the fact that the countries that have information and control it are powerful countries. He said that intellectual assets such as the patent, utility model trademarks and designs are among the tools that determine the direction of global competition.
Underlining that all good works begin with an idea, BAŞPINAR stated that innovations that transform and change our lives develop and are shaped around original ideas.
At the ceremony where the cooperation protocol was signed after the speeches, plaques were given to the representatives of the companies that made the most patent, utility model, trademark and design applications in Bursa and Yalova between 2017-2021.
The Hezarfen project, which aims to contribute to increasing the innovative culture in SMEs and to create an intellectual property strategy in SMEs to protect these innovations, was put into practice for the first time in 2007 by the Turkish Patent and Trademark Office.
Thanks to the project, which has been developed over time with sectoral applications, consultancy services have been provided to more than 800 SMEs in 30 different provinces.