― 16 Mayıs 2022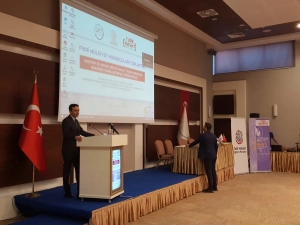 The event titled "Intellectual Property Lawyers Meeting: Comparative Perspectives on the Decisions of the Court of Cassation and European Union Court of Justice" planned to be held between 16-18 May 2022 in cooperation with the Turkish Justice Academy, the General Directorate of Copyrights and the Turkish Patent and Trademark Office, started in Antalya.
Speaking at the opening of the meeting,  Cemil BAŞPINAR, Acting President of TÜRKPATENT,  emphasized the importance of the judiciary within the IP ecosystem, stating that it is an area where many different disciplines contribute and interact, from its implementation to its conservation and commercialization.
Providing information about the work of the Turkish Patent and Trademark Office, BAŞPINAR drew attention to the importance of alternative resolution methods that will alleviate the workload of the judiciary at the point of settlement of disputes related to industrial property. He expressed the readiness of the  Turkish Patent and Trademark Office to   develop the coordination and cooperation with relevant institutions in all areas of intellectual property.
The meeting, attended by many judges and prosecutors dealing with industrial property cases, as well as members of the Supreme Court of Appeals, and representatives of TÜRKPATENT, will end on May 18.