― 25 Ekim 2022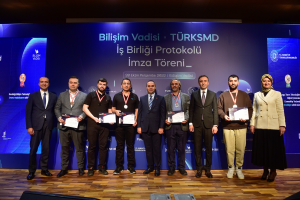 A cooperation protocol was signed between Türk Sınai Mülkiyet Değerleme Mühendislik ve Danışmanlık Hizmetleri A.Ş and Bilişim Vadisi to make an evaluation of the 50 start-ups in Bilişim Vadisi.
The cooperation protocol will contribute to raising awareness in the field of industrial property, which is one of the important tools of technological development, and to the development of the ecosystem.
As a result of the valuation study, concrete data about the value of the brands will create an advantage for brand owners in cases such as investment, acquisition, merger, transfer, licensing.