― 5 Temmuz 2022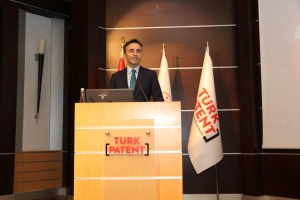 An event on "Intellectual Property Law" was held on 5 July 2022 in cooperation with the Turkish Patent and Trademark Office (TÜRKPATENT) and the International Trademark Association (INTA).
Speaking at the opening of the event at the TÜRKPATENT Conference Hall, TÜRKPATENT Deputy Chairman Cemil BAŞPINAR stated that an action plan was prepared within the scope of the memorandum of understanding signed with INTA last year, and noted that the event was organized within the framework of this action plan.
BAŞPINAR stated that the management of the workload, which has arisen in parallel with the increasing number of applications in recent years, is one of the issues that deeply affect the intellectual property system in the world.
Pointing out that TURKPATENT is one of the offices with the highest number of industrial property applications in Europe and the world, BAŞPINAR said, "According to the Intellectual Property Indicators Report published by WIPO, Turkey ranks 14th at national level in patent applications, 7th in trademark applications and 4th in the world in design applications. In this respect, fast and high quality management of the registration process is among the priorities of TURKPATENT." made its assessment.
INTA President Zeeger VINK also stated that Turkey has taken serious steps in the protection and enforcement of intellectual property rights in recent years, and that as INTA, they characterize counterfeiting that causes unfair competition as a crime. He stated that they are working in this area by making use of agreements and legislations through anti-counterfeiting committees.
Etienne SANZ DE ACEDO, CEO of INTA, stated that they are working for the protection of intellectual property rights globally and that they aim to protect the values ​​of brands in financial and legal terms and support the development of intellectual property experts in their strategic plans covering the years 2022-2025.
After the opening speeches, BAŞPINAR presented plaques to VINK and DE ACEDO in memory of the day.
Later, in the sessions held with the participation of lawyers who are experts in the field of intellectual property, the future of intellectual property with the applications of trademark law was discussed.
After the sessions, the questions of the participants were answered.