― 24 Kasım 2022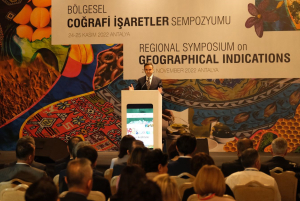 "Geographical Indications Symposium and Exhibition" was held on 24-25 November in Antalya under the leadership of the Turkish Patent and Trademark Office (TÜRKPATENT).
Representatives from many countries participated in the symposium organized in cooperation with the World Intellectual Property Organization (WIPO), Georgia Intellectual Property Center and Azerbaijan Intellectual Property Agency.
TÜRKPATENT President Cemil BAŞPINAR drew attention to the importance of geographical indications in his speech at the opening of the symposium. BAŞPINAR said, "We will continue our efforts to raise the geographical indication potential of our country, both at the national and international level."
Director of WIPO Transition and Developed Countries Department Prof. Dr. Habip ASAN, on the other hand, emphasized the importance of intellectual property in his speech. Emphasizing that there is a process where it is difficult for investors to reach money due to the Covid-19 pandemic, ASAN said, "In this respect, the importance of using intellectual property, which can replace money, as a leverage in economic development for companies and countries, has increased."
After the opening speeches, the geographical indication registration certificate of 25 recently registered products was presented and the exhibition, where the geographically indicated products were exhibited, was visited.