― 10 Kasım 2022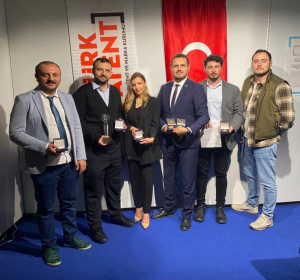 TÜRKPATENT attended the "IENA International Trade Fair for Ideas, Inventions and New Products" held in Nurnberg, Germany, between 27-30 October 2022 in cooperation with the German Patent and Trademark Office (DPMA) and the International Federation of Inventors' Association (IFIA) with our 3 local inventors.
Our inventors won 2 Gold and 1 Silver Medals at the Fair.
The inventions of our inventors and the medals they won are as follows:
Dr. Ramazan ÜNAL and Barış BAYSAL, Gold Medal with Three Degrees of Freedom Ankle Prosthesis Invention
The invention of "AnkleMech: 3 Degrees of Freedom Ankle Prosthesis" was developed for patients with congenital limb loss or who lost more than one limb due to various diseases or accidents.
The invention enables the movements of internal rotation, inward and outward turning of the ankle joints, and zero degree alignment with the under-knee mechanism, to be performed in an energy-efficient manner. It offers a very low-cost solution for people to continue their functional lives close to normal.
Hasan AYARTÜRK Gold Medal for Invention of "Electricity Generation System with Osmosis"
The "Electricity Generation System with Osmosis" invention was developed to eliminate some of the disadvantages of electrical energy generating systems by using the osmosis principle, that is, by using the flow increase caused by the solvent transfer between liquids with different solute densities, by enabling the main source of motion to be moved.
The invention provides the opportunity to eliminate the need for liquid supplementation by maintaining the solvent density of the highly soluble liquid in electrical energy generating systems with the osmosis principle. In this way, it also reveals an energy system with reduced location independence.
Inofab Health Technologies, "Zero Flow Level Determination Method for Respiratory Function Test Devices" Silver Medal for Invention
The method of the invention enables to automate the zero air flow calculation step of ultrasonic spirometers used in pulmonary function tests processes in medicine.
With the invention, a new method has also been introduced to determine the zero air flow level without bothering the users and to prevent user-related errors.
In addition to these awards, our inventors won the Portugal, Iran, Taiwan, Lebanon and Croatia Country Special Awards.